Hello everyone, it is a glorious day here and I had problems taking my piccies this morning as the sun was so bright, but I think I got something decent in the end! For my card I have used the sketch from
Sketch Saturday Challenge 76
and I am also entering it into this week's
Papertake
challenge which is to use something digi and sparkle.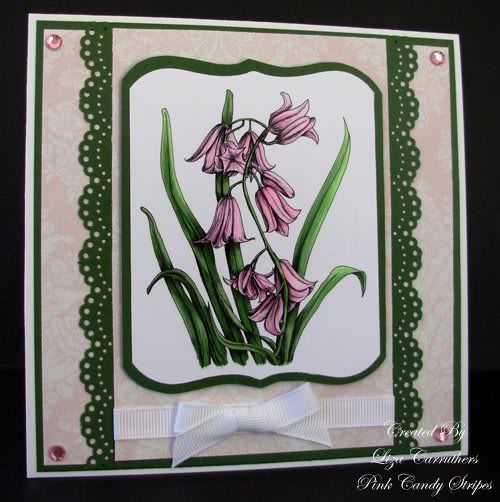 I have used the beautiful bluebells image from sketching stamper and it is coloured with copics.... I know my bluebells are pink but hey ho! The sketch was actually to use an oval, but my oval nesties wouldn't fit the image, well the largest one would but it was massive so I gave that idea up. Instead I used my label one nesties to shape the ends of my rectangle and I'm really pleased with the result. My DP is from papermania and I used my MS doily lace punch for the borders. Finally, the bling and ribbon are from my stash.
Finally, my usual close up.
Supplies
Card/Paper: White and dark green, PM - Regency
Stamps: Sketching Stamper Digi-Stamps - Bluebells
Colouring: Copics
Embellishments: Ribbon and jewels
Tools: MS doily lace punch
Thanks for looking x