Hi girls, thankfully today it is cooler and it has rained.... I know to some of you this may seem a bit odd but we have been having temperatures in the mid/high 30s and I have been soooooo hot. I have been finding it very difficult to get the energy to do anything...... even craft!!!!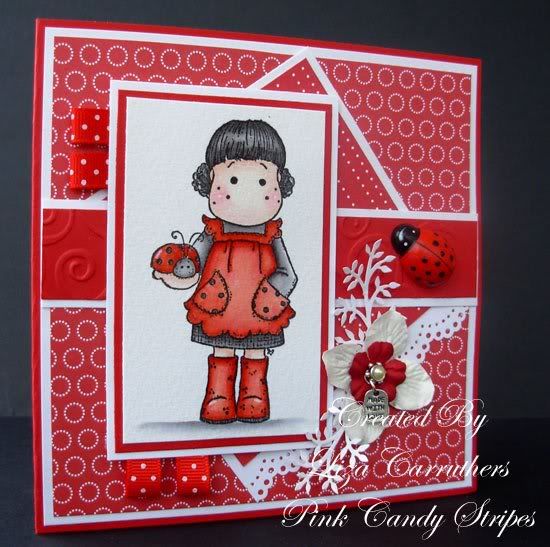 So, this afternoon I have finally managed to do make a card. It covers four challenges; firstly
Just Magnolia Challenge 12
where the theme is charms, secondly
Secret Crafter Challenge 39
where the theme is three ribbons.... I have actually used four so I hope it is ok!,
Creative Card Crew Challenge 18
also has a theme of ribbons...handy!.. and finally, I have followed the fab sketch from this week's
Sketch Saturday
.
The gorgoeus Tilda image is from a blog bud and she is coloured with distress inks. The papers are pebbles ink and it is lush double sided paper, and I have used my d'vine swirl folder for the embossing. The flowers are primas, the charm, brad, spacer and cute little ladybird are all from my stash. I have just got a white inkssentials pen for highlighting and I'm working on the less is more philosophy until I get the hang of it.... I'm just dabbing it about at the moment, so you will have to bear with me!!! lol!!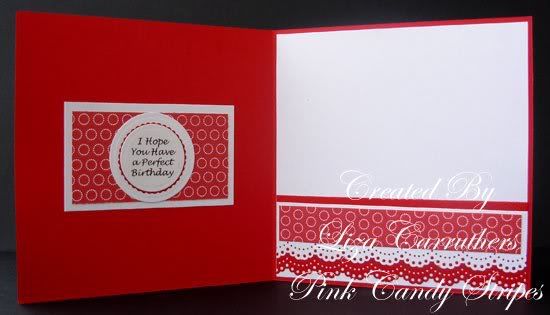 The inside is nice and simple and, as you can see, the MS punch has made an appearance.... you were warned!!!! lol!! The sentiment was computer generated and behind it I have made a little pocket where money or a gift card can be added.
Finally, a close up of the very cute Tilda.
Supplies
Card/Paper: White and red card, Pebbles inc
Stamps: Magnolia - Tilda with Ladybug
Colouring: Distress inks - black soot, fired brick, tattered rose, weathered wood, worn lipstick. Inkssentials pen for highlights
Embellishments: Primas, PM brad, spacer, charm, ladybird embellie
Tools: Cuttlebug, nesties, d'vine swirl folder, water brush, MS doily lace punch, leone em branch punch
Thanks for looking and I hope you are all having a great week. x