Hello everyone (again!) I made this card and I have found that it can fit in with six challenges! That is the most I have ever managed for one card, I can usually manage two or three without much thought, but I have never done six!!! lol!! Firstly,
Quixotic Challenge 8
and this week's
Simon Says Stamp
both have a theme of hot chocolate and I have used this inspiration and gone for the colour combo pink and brown,
Charisma Cardz Challenge 1
has a theme of pink, brown, cream and toffee,
Mo's Digital Pencil Challenge 13
has a theme of birthday,
ABC....L
has a theme of layers and finally I have used the sketch from
Stamp Something
- although for this one I did make a minor error - I put my ribbon on and I realized I'd put it on the wrong side so my squares are back to front - I understand if I have gone too far off the sketch and my card doesn't count!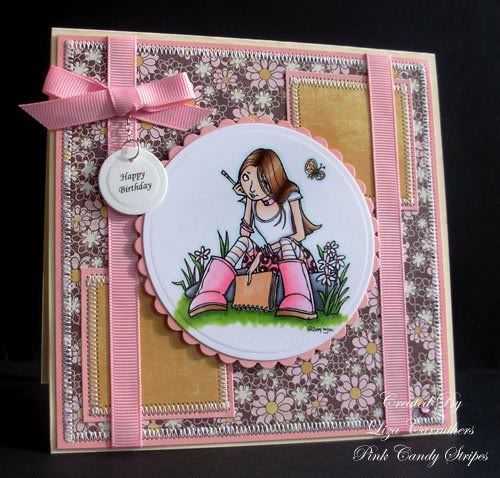 So, onto the card! I have used the wonderful Rae with Journal from Mo's Digital Pencil and she is coloured with copics. My DP is from Basic Grey and I have stitched around all the elements. The ribbon is from my stash, I have computer generated the sentiment and attached it with silver chain. Finally, I finished of with a jewel.
Supplies
Card/Paper: Pink and cream card, Basic Grey - Sugared
Stamps: Mo's Digital Pencil - Rae with Journal
Colouring: Copics - E00, E51, R20, E21, E33, E35, E37, E29, RV10, RV21, RV23, R02, RV02, RV04, BG10, YG03, G21, YG67, Y17, YR00, YR20, C1, C3, C5, C7, 0
Embellishments: Ribbon, jewels
Tools: Cuttlebug, nesties, sewing machine
Thanks for looking x