Hello everyone, todays card and tag combo is for five challenges;
Secret Crafter Challenge 61
has a theme of matching set,
Cute Card Thursday Challenge 89
has a theme of girly,
Charisma Cardz Challenge 48
has a theme of summer and
Quixotic Challenge 5
and this week's
Simon Says Stamp Challenge
both have a theme of charms.
I have made another easel card, I just love them! I was lucky enough to win a Roses on Paper Challenge a couple of weeks ago and the gorgeous stamp I have used was my prize. She is called Tania Baking and I have coloured her with copics and highlighted with my inksenntials pen. The DPs are basic grey Lemonade - my fav - I love the bright summery colours and patterns! I have been stitching again - my sewing machine doesn't know what has hit it!! lol!! The ribbon, flowers, charm etc are all from my stash.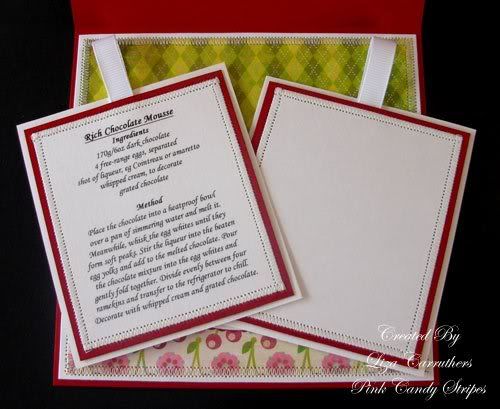 I have added a pocket to the bottom on the card and inside I have put two tags, one with a recipe for chocolate mousse and the other is to write a greeting on.
This is the gift tag that I made to match. I am going to use this set for my sister's birthday as I know she will love this gorgeous image as much as me!
Finally, a close up.
Supplies
Card/Paper: Red and white card, Basic Grey - Lemonade
Stamps: Belles n Whistles - Tania Baking
Colouring: Copics - 0, C1, C3, C5, YG03, YG06, R27, R29, R59, B00, B23, B24, B93, B95, B97, R20, E51, E00, E21, E33, E35, E37, E29. Inksenntials pen for highlights.
Embellishments: Ribbon, flowers, jewel brad, charm, chain, jewels
Tools: Cuttlebug, nesties, sewing machine, MS doily lace punch
Thanks for looking x